Relaxation and spoiling
Perfect location by scenic bike routes
Make a stay by bike in beautiful surroundings after an active cycling day. Enjoy a delicious tapas dish with cool drinks, and spend the night in one of our beautifully decorated hotel apartments. Have a new day by bike, after a nice breakfast in our cozy lounge.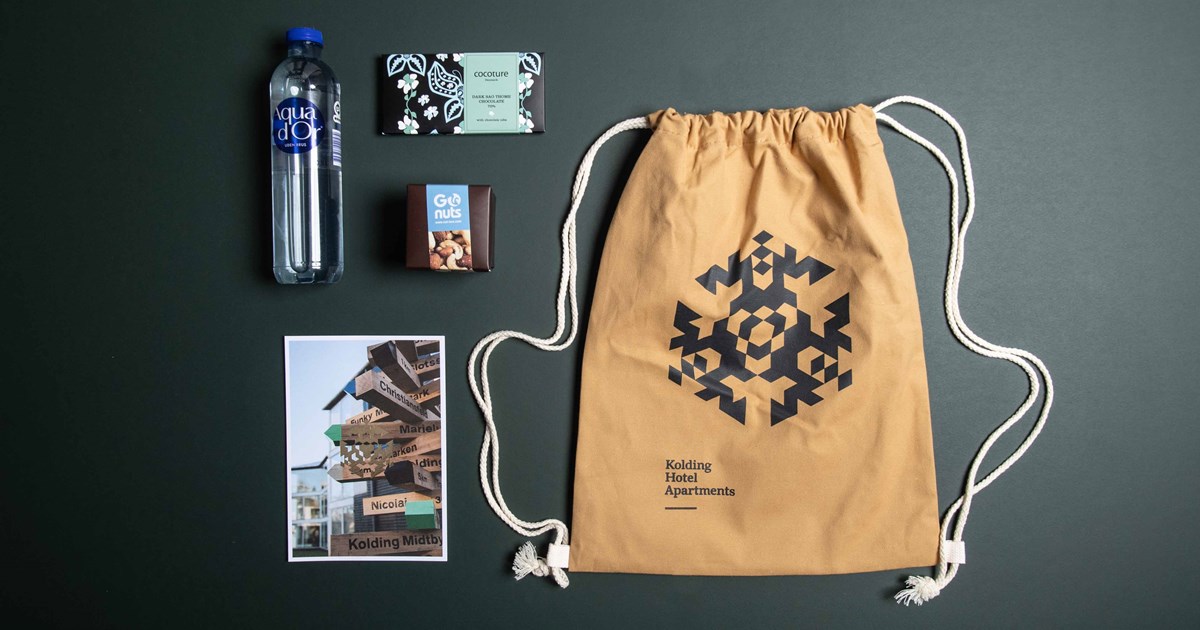 Bicycle stay with a little extra
Exhale and use our facilities to have your bike inspected while you charge up for a fresh new day on the bike route. We have prepared a small backpack with spring water, nuts, chocolate and a special greeting from us, with the wish of a really good bike ride for you.
When you take a bicycle stay with us, you have access to all our facilities, and can, among other things, use our loan box with good activities and fun games. We are happy to give a few tips and advice along the way, whether it is recommendations of local restaurants, sights or nature experiences in the area near Kolding.
The stay includes:
- Accommodation in holiday apartment (from 1-8 people)
- Tapas dish that can be enjoyed in the lounge or apartment
- 1 bottle of wine or beer / water
- Breakfast in the lounge with a selection of organic and local ingredients
- A small backpack for the bike ride with nuts, chocolate and spring water.
Write to us at [email protected] or call (+45)75541800, and hear more about the different options.

Bicycle-friendly hotel
Bed+Bike
The Bed + Bike certification is your guarantee that both you and your two-wheeler are always riding well. Whether you are a cozy cyclist or more serious, here are the services and facilities you need. You are welcome to stay as long as you like. Whether you need a stop and a single night on a longer trip, or you want a longer stay and a starting point for several different one-day trips, we will find the solution that suits you best.

Stay on the move
Service for bicycles and cyclists
When you stay with us, you can, among other things:
store your bike in the hotel apartment

get your tires inflated

borrow tools for minor repairs

wash your bike

rent a bike

borrow a helmet and child seat

get your cycling clothes dried

get information on local bike routes

Fix the bike
Bicycle toolbox
You can borrow this Atredo tool set at reception. The set contains everything you need to handle the most common repairs on your bike. The set includes:
wrench

freewheel tool for 1/8 "

15 mm pedal key

crankcase tool

freewheel puller

pedal arm trigger

cone keys

chain pliers

tire iron

spoke key

umbraco keys

blade bolt wrench

patch set
The waterway route T11 is a beautiful cycle route of approximately 33 kilometers, along winding country roads and gravel paths around the Stenderuphalvøen, which lies next to the Little Belt. You can follow the National cycle route N5 out of town from Kolding Hotel Apartments, while enjoying the view of Kolding Fjord. At one point, the route turns off of cycle route 5 and is now only called Vandvejen and takes you out through Stenderup Skovene.
The old Stenderup forests - Nørreskov, Midtskov and Sønderskov - stretch along the coast of the Little Belt and contain an extensive network of forest roads at crossroads. Here is a remnant of the large Farris forest, which in the Middle Ages formed a belt across Jutland. In the forests you can find 5500 year old stone dolmens and over 3000 year old burial mounds from the Bronze Age.
The route takes you on to Solkær Meadows - a unique nature area with lakes, wet meadows and a rich bird life. Stop by Skamlingsbanken and experience one of the most important monuments in Danish history. At Skamlingsbanken you are 113 meters above sea level and can enjoy the view of the entire area between Kolding and Christiansfeld. Skamlingsbanken is especially known for the folk festivals that were held in the years 1843-59 in support of the Danish cause in Southern Jutland.
Stage 3 of the Tour de France 2022 is 182 kilometers long, starting in Vejle and finishing in Sønderborg.
The Vejle area offers short but steep climbs. before the tour continues past Jelling, and the UNESCO-preserved Jellinge monuments erected in 965 by Harald Bluetooth.
The route runs south through Kolding, which is known for the more than 750-year-old royal castle Koldinghus. At the foot of the royal castle, it is possible to stay overnight at Kolding Hotel Apartments.
The Baltic Sea route N8 is Denmark's longest national cycle route of 820 km (minus ferry connections). In 2019, the route was named Cycle Route of the Year in the Netherlands.
The route takes you through some of Denmark's most beautiful nature and past a wealth of exciting attractions. About 96 km of the 820 km long Baltic Sea route runs through the beautiful coastal landscape by the Little Belt and through cozy, historic towns from Christiansfeld, over Kolding to Fredericia and on to Middelfart on the other side of the Little Belt.
So if you have the legs for 820 kilometers, it is obvious to plan an overnight stay or two along the way at Kolding Hotel Apartments.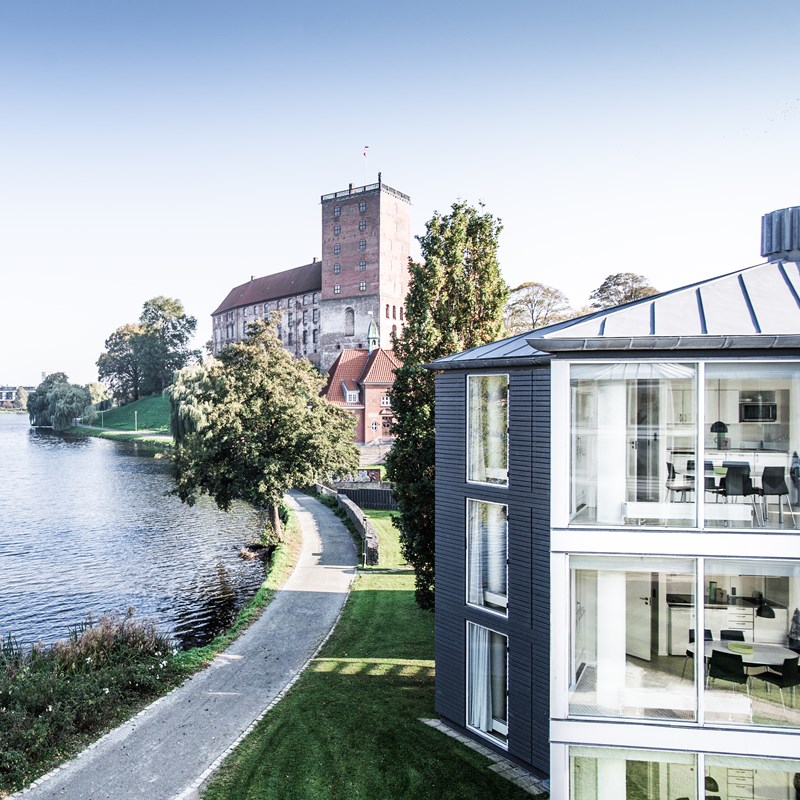 Stay Surprised
Give a gift card
Surprise someone you care about with a gift card for Kolding Hotel Apartments. The gift card can be used both for regular nights and for our many special package stays.