×
Please wait while we search for available apartments
Feel free to contact us:
+45 75 54 18 00
stay@koldinghotelapartments.dk
SHARING ECONOMY
Loan Service
Our Loan Service is a way of helping you with all the little things you might need during your stay. Perhaps you have forgotten something at home. Maybe you just need a board game to kick back and relax. At Kolding Hotel Apartments, you can borrow anything from
training equipment and rice cookers to board games and nail polish remover. And why is
that?
You know the feeling? You just left for holiday and find yourself missing something you usually have at home. We know the feeling too.
That is why we have formed our Loan Service with the things our guests most often need. In the winter, you can borrow sleds and ice scrapers. In the summer, you can borrow squirt guns and petanque. We have loads of books, board games and training equipment you can borrow as well.
The Loan Service also contains many practical things such as alarm clocks, irons and sewing kits. That way you do not have to worry about oversleeping or your shirt missing a button.
The Loan Service saves you from having to buy the things you forgot at home and only need for a couple of nights. That is sharing economy.
If you forgot your book at home, a guest before you probably forgot theirs with us. Now you can borrow it.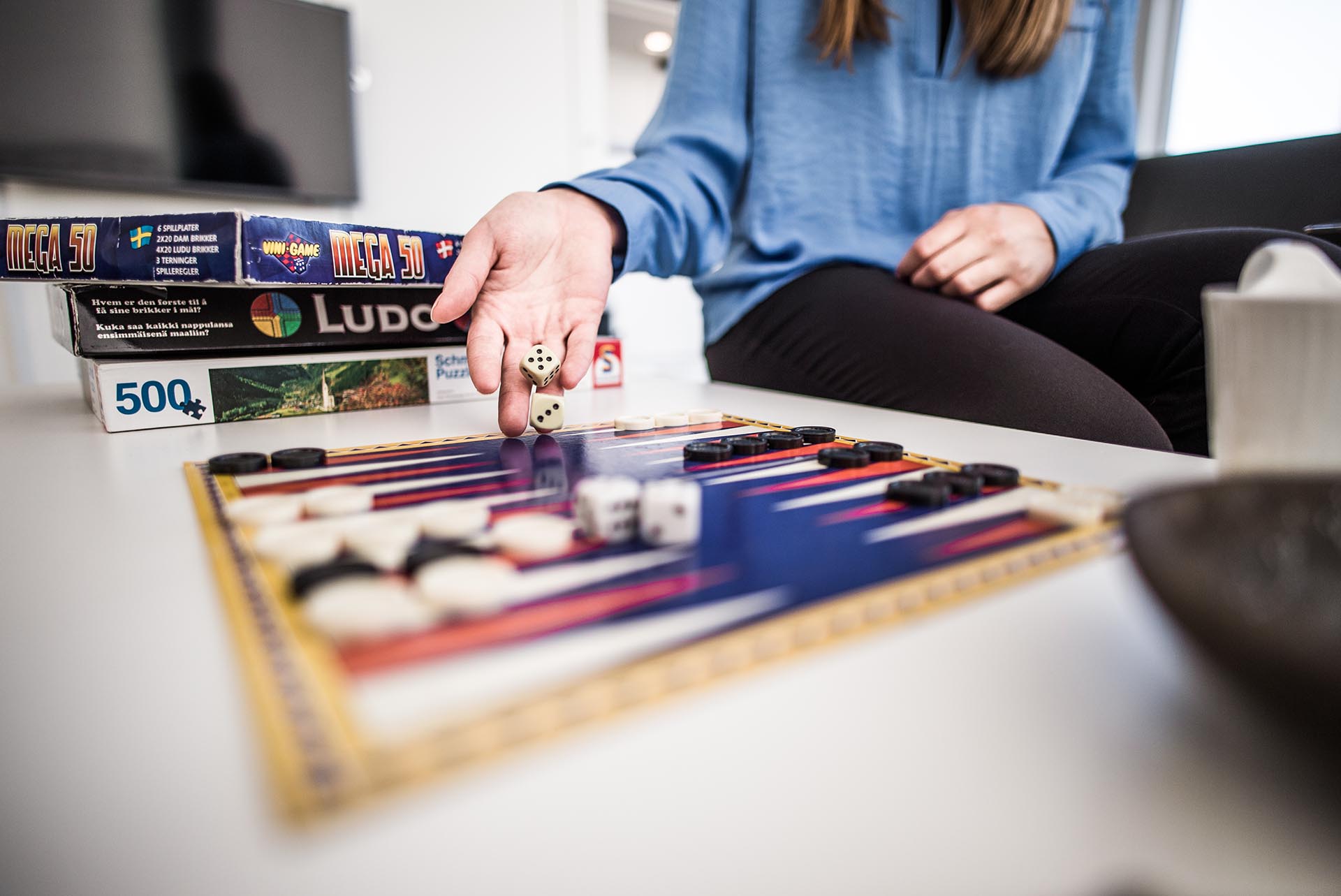 LESS FOOD WASTE
Kolding Madhjælp
Kolding Madhjælp is a volunteer community that donates good and fresh leftover food to socially vulnerable citizens. They accept all types of food, except perishables.
Guests and citizens in Kolding can donate their leftover food to Kolding Madhjælp.
Food must be dropped off at Kolding Hotel Apartments' reception, and every Friday we pass it on to Kolding Madhjælp. 
You can donate all foods that are not perishable, as well as toilet paper, cleaning products and dried goods.
We also fight food waste ourselves. We provide coffee filters, dishwasher detergent and tea bags so you do not have to buy large amounts during your stay. We also reduce food waste through stock control and we adjust the amount of food in our breakfast buffet to the number of guests dining.
The food that is not consumed is reused for biogas through the environmental organization ReFood. Non-perishable food is donated to Kolding Madhjælp.
SUSTAINABILITY
Green Initiatives
We wish to be environmentally responsible through sustainable and sharing economy initiatives. It makes sense for us to be green, because it is a part of our identity and concept, and nature is an important part of our surroundings. That is why we are always trying to develop and find new ways to protect the environment.
We take the environment into account in several ways in our daily operations. All forgotten items that are not claimed are reused in our Loan Service. So if you forgot your charger or you feel like playing a board game, there is no need to purchase it - you can just borrow from us.
We remodel furniture, give it away or paint it in new colors instead of throwing it away. For example, the nightstands in all apartments are made from old bookshelves.
We save energy by using LED bulbs in all our apartments. Our toilet paper is made from recycled paper. We use water-saving showerheads and automatic temperature control in all apartments.
We make an effort to save water by only washing towels once a week, and of course after check out or as needed.
In every apartment, you will find a green 'Stay Green' tote bag that you can use for groceries during your stay. That way you can help reduce the use of plastic bags. Therefore you can also buy a 'Stay Green' tote bag in the reception and make a difference when you get home.
Remember that every effort counts.