×
Please wait while we search for available apartments
Feel free to contact us:
+45 75 54 18 00
stay@koldinghotelapartments.dk
Kolding Hotel Apartments
Map of Surprises
We love surprises. That is why we have gathered our local favorites on the Map of Surprises - a collection of wonderful activities and ventures in Kolding and the southern part of Jutland. Map of Surprises can be found in all of our apartments and in the reception. This way you will always have different adventures right at hand. Below you will find a selection of some of the activities and ventures from the Map of Surprises.
Kærlighedsstien - A walk around the lake
Distance: 200 m   Walk: 1 min
Kærlighedsstien is roughly translated to "The Path of Love". It is the beautiful walking path that wraps around the castle lake. There are plenty of opportunities to experience nature and maybe even make a quick detour to the green areas by Koldinghus.

Marienlund - A quiet forest in the city
Distance: 2 km   Drive: 4 min   Walk: 20 min
One of the most romantic places in Kolding. It is also a perfect place to go for a run or walk through the woods with the family.

Geografisk Have -The botanical garden in Kolding
Distance: 4 km   Drive: 5 min   Walk: 30 min
Enjoy thousands of roses, jungle paths, greenhouses, animals, playgrounds and Kolding Miniature City.
The stream of Kolding
Distance: 3 km   Drive: 5 min   Walk: 9 min
Along the stream running through Kolding, you will find seven spots to relax that combine experiences of design and nature. Start off from the city center and follow the path to the marina. The paths wind between trees and bushes and many surprises await you along the way.
The valley
Distance: 4 km   Drive: 6 min   Walk: 20 min
Just outside of Kolding city center you will find a beautiful valley. You will have the chance to experience beautiful nature up close. You can go canoeing, fishing or go on a picnic. 

Kolding Golf Club
Distance: 4 km   Drive: 6 min   Walk: 35 min
Play 9 or 18 holes of golf on the lovely golf course, which is located in the northern part of Kolding city center. 

The forest in Sdr. Stenderup
Distance: 17 km   Drive: 24 min
Go on a picnic in the forest surrounding Sdr. Stenderup, which offers hills, bonfires, a view of the sea and a designated dog area where dogs are free to run off-leash. 
Legeparken - Playground
Distance: 2 km   Drive: 3 min   Walk: 13 min
A fun playground that has pedal boats and canoes, mooncars and a grilling area. The entrance and activities are free.

The Public Library of Kolding
Distance: 800 m   Drive: 4 min   Walk: 9 min
A dynamic house for the whole family. Here you will find the latest newspapers and magazines both domestic and international. You will also be able to experience different art exhibitions among the thousands of books. 
Nicolai - Cultural Center
Distance: 500 m   Drive: 2 min   Walk: 3 min
Nicolai is a cultural center for children and adults that are young at heart. Here you will find an indoor play center, inspiring exhibits, music, cinema and a cosy café.
Harteværket - A hydroelectric plant
Distance: 3 km   Drive: 10 min   Walk: 20 min
A hydroelectric plant from 1918 which now works as an exploratorium. Learn about how water becomes energy or how the laws of physics work. Here you will find plenty of activities for all ages.
Universe - Science Park 
Distance: 114 km   Drive: 75 min      
Universe is a Danish amusement and science park where children and adults can play while learning about science.

LEGOLAND®
Distance: 43 km   Drive: 40 min  
The world-famous resort built with more than 60 million pieces of LEGO.
LEGOLAND® is a paradise for children and adults.

Givskud Zoo
Distance: 42 km   Drive: 41 min  
A wonderful zoo where you can get close to the animals. In the zoo you will both get the opportunity to walk around but also to drive around by bus or in your own car inside the enclosures where lions, giraffes and other exotic animals roam freely.
Koldinghus - The old royal castle
Distance: 230 m   Drive: 3 min   Walk: 2 min      
Do not forget to visit the old royal castle from 1268. Koldinghus has undergone a spectacular restoration and today it is a well-established museum with world-class art-exhibits.  
Landbomuseet - a museum exhibiting the history of agriculture
Distance: 9 km   Drive: 14 min
Experience old Danish farm tools and machinery. You will be able to attend several events, where the youngest will be able to get close to the animals.

Danish Museum of Nursing History
Distance: 5 km   Drive: 8 min
In the 500m2 exhibition area you can explore the history of Danish nursing and tools. The museum is housed in an authentic environment. The buildings were earlier used as a tuberculosis sanatorium for children
Skamlingsbanken - the highest point of southern Jutland. 
Distance: 13 km   Drive: 17 min
Go for a walk in the area of Skamlingsbanken and enjoy the amazing view along with amazing nature. Skamlingsbanken has memorials for the Danish resistance in World War II.

Christiansfeld - a part of the world's cultural heritage 
Distance: 16 km   Drive: 21 min
Christiansfeld was founded by Hernhutterne (The Moravian Church) in 1773 and is a UNESCO World Heritage Site.
Flensburg
Distance: 90 km   Drive: 70 min
Flensburg is located on the German side of Denmark's southern border. It is influenced by both its German and Danish heritage. Visit the old city and its well-preserved buildings. 
Slotssøen - the lake right next to our apartments
Distance: 10 m   Walk: 1 min
The lake and park is a lovely recreational area. A green oasis in the city center. Next to our Lakeside apartments, at the foot of the old royal castle, Koldinghus, you will find the lake named "Slotssøen" - meaning Castle-lake.

Slotssøbadet - A subtropical waterpark next door
Distance: 260 m   Walk: 3 min
A subtropical water park with a 55 meter long water slide, pools for fun and exercise, hot tub, sauna, steam room and a children's spray park. 

Dronning Dorotheas Badstue - Wellness and spa treatments
Distance: 260 m   Walk: 3 min
Feel like a king or queen and enjoy the lovely spa with an array of treatments and baths.

The marina
Distance: 3 km   Drive: 7 min   Walk: 30 min
Go for a walk by the marina and experience yachts, old wooden houses and a delightful atmosphere.
The beach near Rebæk
Distance: 6 km   Drive: 11 min   Walk: 50 min
A cosy little beach on the south side of the fjord, where you can play, swim and go crab fishing.

The beach in Binderup
Distance: 14 km   Drive: 19 min 
Perhaps the most child-friendly beach in Kolding. Located in a lovely area with lots of tourists during the summer.

Løverodde
Distance: 17 km   Drive: 24 min  
Where Kolding Fjord and Lillebælt meets you will find the lovely beach near Løverodde with piers, natural playgrounds and a café. 

The Lakes near Dons
Distance: 8 km   Drive: 12 min   
The lakes are a popular destination for fishers and bikers. Bike along the paths at the lakes and enjoy peace and quiet.
Activities for children and adults
#05 Art & Design
Mungo Park - Theatre for all
Distance: 1 km   Drive: 4 min   Walk: 8 min
Modern theater with a brave and contemporary repertoire. 

Godset - A Local Music Venue
Distance: 3,5 km   Drive: 6 min   Walk: 15 min
The local concert venue that offers all genres of music - from small and intimate concerts to big rock events.

Trapholt - Modern Art Museum
Distance: 5 km   Drive: 8 min   Walk: 50 min
A museum where arts and design are combined. The modern art museum combines art with experiences as both international and Danish artists or designers exhibits their work.
University of Southern Denmark
Distance: 1 km   Drive: 4 min   Walk: 8 min
The impressive campus is built in 2014 by designer Henning Larsen and is definitely worth a visit. Each year between 2-3000 students visit the campus and the architecture is spectacular. 

Design School Kolding
Distance: 1 km   Drive: 4 min   Walk: 8 min
The building of Design School Kolding is strongly influenced by the groundbreaking design and architecture school of Bauhaus' headquarter in Dessau. Take a minute to look inside the building - if you are lucky, the students may have an exhibition in the foyer.
The Tunnel of Lights
Distance: 1 km   Drive: 8 min   Walk: 8 min
An exciting tunnel that leads you under the stream towards Design School Kolding and the University of Southern Denmark. Have a look at the playful use of light in the tunnel. 
The Latin Quarters of Kolding
Distance: 10 m   Walk: 1 min
In the Latin Quarters of Kolding you will find cobblestone streets, beautiful old houses and a variety of specialty boutiques.
Kolding Inner City
Distance: 200 m   Walk: 3 min
Exciting shops, inspiring restaurants and a heart of Koldings nightlife.
Lilletorv and A. L. Passagen
Distance: 400 m   Walk: 4 min
A cosy gathering point in the heart of Kolding's pedestrian area. Both pubs, cafés and restaurants surround this area, so you will have plenty to taste when going here. 
Kolding Storcenter - Largest Shopping Mall
Distance: 3 km   Drive: 4 min   Walk: 30 min
With more than 120 shops this shopping mall is the largest in Jutland.

Flensburg
Distance: 90 km   Drive: 61 min  
Take a trip south of the Danish-German border and enjoy a day in the city of Flensburg. Beautiful architecture and history makes this city a visit worth.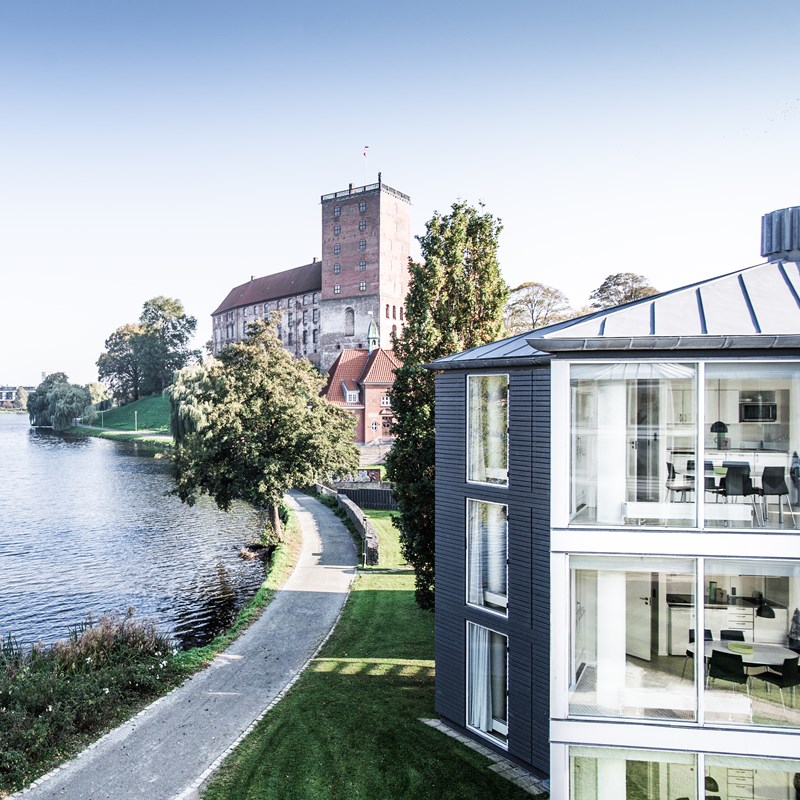 Stay Surprised
Give a Gift Card
Surprise a loved one. Give a Kolding Hotel Apartments gift card. Our gift cards are valid to pay for a regular overnight stay or many of our holiday packages.