×
Please wait while we search for available apartments
Feel free to contact us:
+45 75 54 18 00
stay@koldinghotelapartments.dk
Kolding Hotel Apartments
Fine Dining Package with ALL Inclusive
This package offers ultimate luxury for connoisseurs, including a gourmet welcome basket, your own design apartment with a view and transportation to and from an outstanding fine dining experience.
Here you have the chance to give yourselves an experience full of luxury and pleasure from arrival to departure. Stay in the heart of Kolding in one of our luxurious apartments with Danish design and a view of the Castle Lake. Enjoy a 6-course gourmet meal in 13 servings including a wine or juice menu at Kolding's newest, most exclusive gourmet restaurant Bror Ditlev. Taxi from the hotel to the restaurant and back is also included in this package, and so is the gourmet welcome basket in your room when you check in. 

Pure Pleasure - All Inclusive
The only thing you have to do is come to Kolding. From the moment you arrive at Kolding Hotel Apartments, at the foot of the ancient royal castle Koldinghus, to the moment you leave, we have taken care of everything. And we mean everything.

You stay in to one of our exclusive hotel apartments with plenty of space, Danish design and a view of the Castle Lake. In the apartment you will find a gourmet basket waiting for you, which you may enjoy immediately or bring home to remind you of what without any doubt will be an unforgettable stay.
When the day comes to an end, you will get into the taxi we ordered for you, and go for a 10-minute ride to Bror Ditlev, Kolding's newest, most exclusive gourmet restaurant.
Here an unforgettable fine dining experience awaits you, in intimate surroundings with room for only 22 guests.
The small restaurant's gastronomic creations combine the new Nordic kitchen with traditional French cuisine and treats you with 6 courses in 13 servings. The restaurant's young team focuses on simple aesthetics, locally grown food, organic products and traditional craftsmanship. The meal comes with a wine menu with 6 different organic wines, or 6 organic juices for an alcohol-free evening. The whole experience starts with a glass of sparkling wine and 3 snack servings, and finishes with coffee and 3 treats from Southern Jutland.

Thus spoiled, you will step into the taxi and ride back to your apartment. When the night is over and the sun rises over the Castle Lake, we offer a healthy and delicious breakfast in our cozy lounge. Now the day is yours, and you can choose to enjoy more of what Kolding has to offer before you head back to reality and everyday life.

Fine Dining Package Includes:
Gourmet welcome basket with sparkling Shiraz, chocolate, snacks, tapenade, coffee, liqueur, Italian sodas and more.
One night in your own design apartment with a view of the Castle Lake
Parking right by the door
Taxi to and from the gourmet restaurant Bror Ditlev
Breakfast in the lounge at Kolding Hotel Apartments

At Bror Ditlev:
A glass of sparkling wine and snack servings
6-course meal in 13 servings
Organic wine or juice menu
Coffee and 3 treats from Southern Jutland
—
Price from 4749 DKK for 2 guests
It is always possible to customize our various packages. Perhaps you are interested in staying an
extra night or combining two different packages. Please feel free to contact us by e-mail
stay@koldinghotelapartments.dk or phone +45 7554 1800 if you have any specific wishes for
your stay. We look forward to seeing you.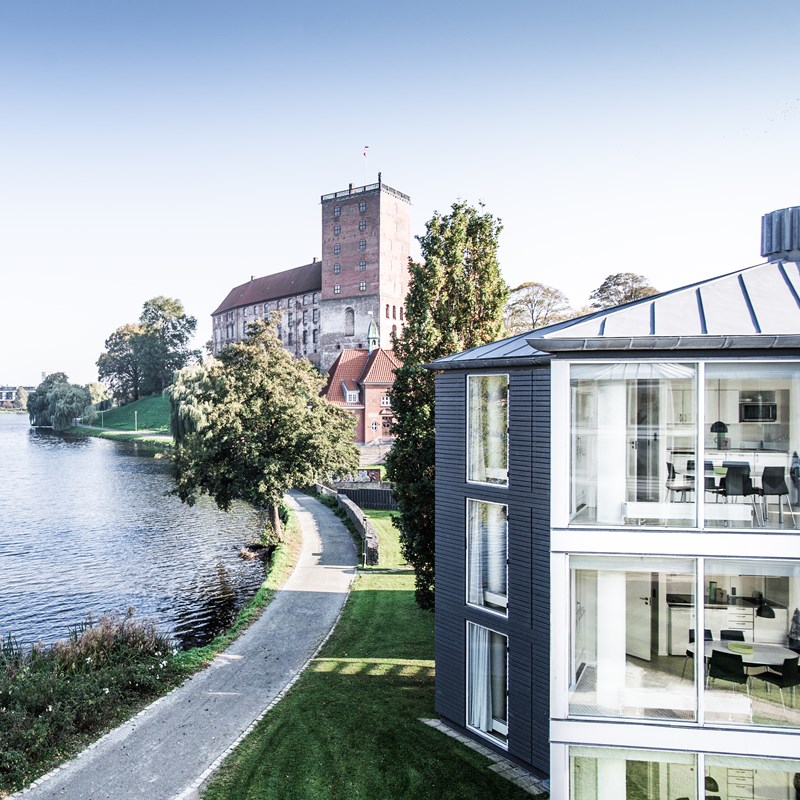 Stay Surprised
Forær et gavekort
Overrask en, du holder af, og giv et gavekort til Kolding Hotel Apartments. Gavekortet kan både bruges til almindelige overnatninger og til vores mange særlige pakkeophold.